Scott Westerfeld's
LEVIATHAN
! The Steampunkish illustrations are exactly what I've imagined THE UNICORN TAMER to look like. Hopefully someday ... *crosses fingers*
Today I came on to drool over bookshelves. In the last month or two, I've bought:
* GRACELING by Kristin Cashore
* GOING BOVINE by Libby Bray
* BOY TOY by Barry Lyga
* THE TRUTH ABOUT FOREVER by Sarah Dessen
* SWEETHEARTS by Sara Zarr
* HUSH, HUSH by Becca Fitzpatrick
* ON WRITING by Stepehn King
and they are all currently lying on my floor because I am out of shelf space. It'll take some re-arranging before I can buy a new bookshelf, but it's still fun to look!
Neil Gaiman shows his shelves:
Popping colors:
Floating bookshelves
:
Unique shapes
: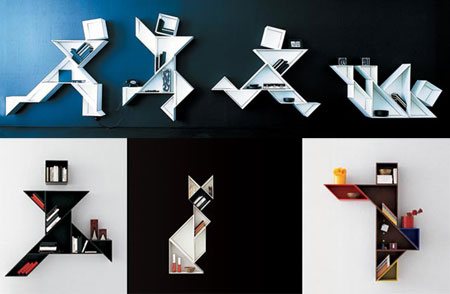 Tree
: